Windows & Doors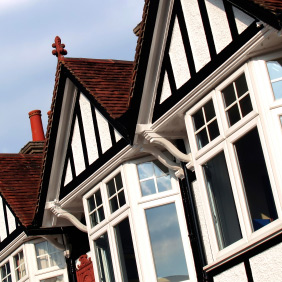 If your property has single glazing or the Windows and Doors are in poor condition, up to 25% of the heat generated in your home could be lost. Upgrading to modern double or triple glazed units can prevent most of this heat loss.
EnergyLink can arrange surveys and quotes from up to three accredited Window & Door Installers. This helps to avoid rogue tradesmen and saves time in finding suitable companies yourself. Our Installers know they are in competition with others so prices are kept as competitive as possible.
What types of Window & Door are available?

The most popular types of glazing in terms of energy saving are double glazing and triple glazing. Specialist Energy Efficient glazing that uses a Low-E glass as well as a gas between the air gaps is also available. Whilst uPVC frames are more common, wood and aluminium are still a popular choice.
How much does it cost?

Replacing all Windows and Doors costs anywhere from £5,000 to £10,000 depending on the type of glazing, the efficiency, the type of materials and the number of items being replaced.
How much can I save?

Savings on heating bills are typically in the region of £50 to £150 per year depending on the size and type of property and how it is currently heated. It also depends on the condition and number of items you intend to replace.
How can EnergyLink help?

EnergyLink Ltd. can arrange for you to receive up to three quotes from FENSA or CERTASS registered Installers. Once you have completed our form, an Energy Advisor will telephone you to determine your exact requirements before passing your details on. The Installers will then carry out surveys of your property before providing you with your quotes.